Escrito por LAURA RIESCO, viernes 13 de enero de 2017 , 13:21 hs , en INNOVACIÓN

Do you want to know how will the Future Classroom be? The Future Classroom Lab is a model classroom hosted by European Schoolnet in Brussels.
The Future Classroom Lab is formed by six different learning spaces. Each space highlights specific areas of learning and teaching and helps to rethink different points: physical space, resources, changing roles of student and teacher, and how to support different learning styles. Discover the different zones now!
 The future classroom allows the students to plan, design, and produce their own work - for example, a multimedia production or a presentation.  Interpretation, analysis, teamwork, and evaluation are important parts of the creative process. 
 In the future classroom, the teacher can use technology to enhance interactivity and student participation in traditional learning spaces.  In the Interact zone, learning involves both teachers' and students' active engagement.
 The students of the classroom of the future will need a different set of tools and skills to present, deliver, and obtain feedback on their work. The presentation and delivery of the pupils' work has to be factored into the planning of lessons, allowing students to add a communicative dimension to their work.
   In the future classroom, students are encouraged to discover for themselves; they are given the opportunity to be active participants rather than passive listeners. In the Investigate zone, teachers can promote inquiry- and project-based learning to enhance students' critical thinking skills. The flexible furniture supports this concept, and the physical zone can be reconfigured quickly to enable work in groups, pairs, or individually. 
 Future classroom learning places much importance on the ability to collaborate with others. The teamwork takes place while investigating, creating and presenting. The quality of collaboration is composed of ownership, shared responsibility and decision-making process within groups. Collaboration in the 21st century classroom is not limited to face-to-face and synchronous communication, but can take place online and also asynchronously.
  The Develop zone is a space for informal learning and self-reflection. Students can carry out school work independently at their own pace, but they can also learn informally while concentrating on their own interests outside of the formal classroom settings both at school and at home. By providing ways to foster self-directed learning, the school supports learners' self-reflection and meta-cognition skills. The school encourages its students towards true lifelong learning by acknowledging and validating informal learning.
You can download all the information about equipment and skills that develop in the following document.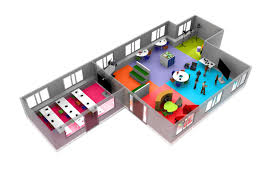 You can also access to training materials, courses and webinars through its webpage.